1st Tolerance Cricket Cup Winner 2018
1st Tolerance Cricket Cup Winner 2018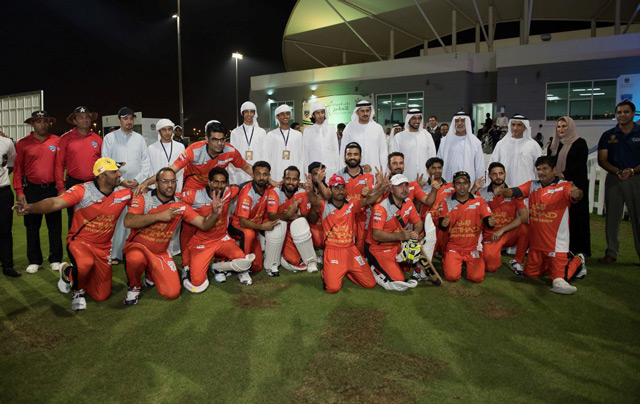 Sheikh Nahyan bin Mubarak Al Nahyan, Minister of Tolerance, honoured the top teams of the 1st Tolerance Cricket Cup following the final match held at the Sheikh Zayed Cricket Stadium in Abu Dhabi on Friday as part of the National Festival of Tolerance. The Cup also marked the country's celebrations of the International Day of Tolerance on 16th November, 2018.
The Ministry of Tolerance placed high importance on the message of inclusion and the promotion of active participation in every sector of the diverse community. The Tolerance Cricket Cup celebrated the significant contributions of the workers' community to the development of the UAE, across all seven emirates.
The championship was organised by the Ministry of Tolerance in cooperation with the Abu Dhabi Sports Council as part of the National Tolerance Festival held under the theme "On Zayed's Approach". It was joined by 16 local teams comprising nearly 300 players representing more than 20 different communities and lasted over seven weeks.
During the honoring ceremony, Sheikh Nahyan said "All of us in the UAE, are winners of the Tolerance Cup, citizens and expatriates. We have set the example of peaceful coexistence, communication and cooperation, tolerance and respect for the other regardless of religion, gender, this what we learnt form our Founding Father, the late Sheikh Zayed Bin Sultan Al Nahyan, and sustained by our wise leadership in terms of the rules, foundations and laws that protect and encourage all sectors of society to cooperate in favour of all."
He went on to say that the Tolerance Cricket Cup is a symbolic picture of the sport's role, especially in providing several opportunities of communication between different communities and constructive and positive competition in an atmosphere of tolerance and peaceful coexistence. He also noted that the championship will be held annually, as the turnout of people to join it was so great. Sheikh Nahyan praised the efforts of all the partners who contributed to the success of the championship, particularly the Abu Dhabi Sports Council and all the participating communities, in addition to the businessmen and the private sector, congratulating everyone on its success.